First, a word about Beer Styles and Why We Care
Beer styles are sometimes seen as ever-evolving beasts that beguile brewers and beer lovers alike. Some see these as arbitrary parameters that can stifle creativity and limit the individual expression of brewers. I tend to see them, like many BJCP judges, as a tool to communicate a broader impression of what wonderful creation you are about to share with your target audience. Further study of their historical origins often prepares the beer enthusiastic to experience the beer in a different light, and for me, provides a more fulfilling experience. With that in mind, This post covers a "style" that doesn't fit into the more conventional style guidelines, but is undeniably delicious and becoming a prominent trend in craft beer.
India-Style Session Ale (ISA)
Let's begin by taking a survey of what most beer lovers would characterize as an India-Style Session Ale or ISA. From the name we know that it will be "session" strength which is typically between 3.8%-5.0%, and it's "India-Style" which has become the common descriptor for HOPS! We have white, black, red, American, English, and imperial India Style beers, to name a few, this is just the latest incarnation that brewers have devised that satisfies the hophead while not packing the assertive alcohol punch seen in American IPA.
Commercial Examples: (**Prediction: This summer will see a huge upswing in the number of breweries producing ISA.)
Founder's All Day IPA
Drake's Alpha Session
Stone Go To IPA
Lagunitas Day Time
Two Beers ISA (Seattle, WA)
If you go by the BJCP style numbers, we're safely within the alcohol range (abv) and color (srm) for Blond Ale (6B); coupled with the bitterness (IBU)  between American Pale Ale (10A) and American IPA (14B). You may notice I've chosen predominately "American" styles; this is because commercial ISA typically employs distinctively American hops. Although I think there is a lot of room for experimentation with vibrant aromatic, including herbal and floral varieties hops (Don't neglect Lower Alpha!).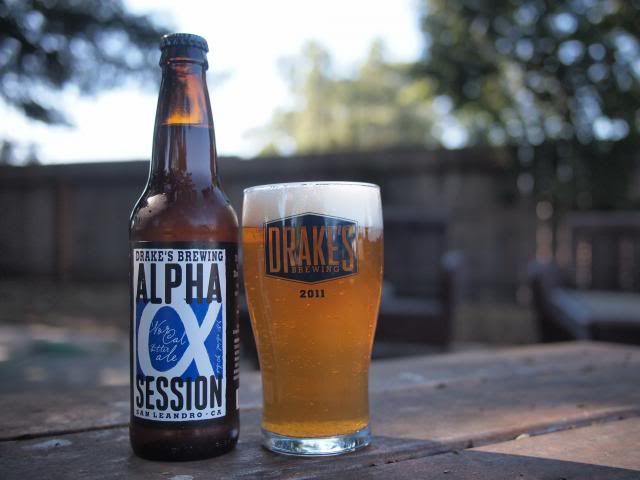 The most successful examples of this style provide a wonderful balance between an assertive hoppy flavor and moderate underlying bitterness along with malt that stands up but doesn't overshadow. Typically pale, malt profiles are uncomplicated but well thought out.
J.B.'s ISA Style Parameters
Approx. ABV: 3.8-5.0%
SRM: 3-8;
Carbonation: Med-High
Approx. IBU: 35-65
O.G. -1.035-1.052
F.G. – 1.007-1.015
ISA Eats (Don't let your beer go it alone…
What's better than getting your hop fix on a warm spring day with a new-school ISA? Some killer food pairings! This style lends itself extremely well to a variety of food that can utilize the hoppy character of ISA to compliment, contrast or cut the food's character. Tex-Mex dishes, (Cinco De Mayo party?), like fresh salsa or a shrimp quesadilla, with their spicy, lime and cilantro flavors. Thai and Indian dish's capsaicin heat are emphasized by the hop bitterness of ISA, while the flavors of tropical fruit compliment the dish's exotic spices, especially with new varieties of hops. Bright and citrusy California seafood is perfect with classic citrusy American hops. A mild blue cheese or gorgonzola provides a wonderful cheese compliment, especially when served on a "Black and Blue" burger whose richness is cut by the carbonation and bitterness.
ISA & Food Pairings
Tex-Mex
Indian & Thai
Citrusy Seafood
Mild Blue Cheese & Gorgonzola (Save the Stilton for something with a bit more heft)
Black and Blue Burgers
Keys to Brewing ISA
Here are a few keys that can help guide your success when brewing ISAs at home:
Remember the difference between hop flavor (think late additions) and bitterness (think early kettle additions, and high alpha hops), both are necessary but lean on hop flavor for this style. (Bigger is not better)
Based on brewing water, consider a moderate addition of Gypsum (CaSO4) to the mash to help accentuate hop profile. (I typically go about .5-1tsp per 5gl batch)
Consider checking Mash pH for all Pilsner malt or base malt recipes, aim for 5.2-5.5 and adjust accordingly.
Single-Infusion Mash on the low to low-mid range should provide appropriate dryness/sweetness which accentuates the hops while giving body.
This style is a great canvas for newer varieties of hops with unique character like Sorachi Ace (lemony), Nelson Sauvin (Sauvignon Blanc), or Citra (tropical fruit/melon)
Try different hop techniques and types:

All Whole Leaf Hops (like Sierra Nevada) w/ Bazooka Screen Filter
First Wort Hopping
Hopback/Whirlpool Hop additions
Lower ABV beers still need balance; one method is the use of base malt combinations to provide character without overshadowing hop character.
Limit specialty malts to 10% of grist, or less.
Consider clean neutral strains, but don't shy away from some English varieties that may provide some residual sweetness that helps balance a low ABV Beer.
When packaging hoppy beers, avoid oxidation at all cost. If kegging, purge with CO2 before racking for prolonged hop aroma and flavor.
ISA Recipes!
Cheers,
J.B. Zorn, Certified Cicerone®, BJCP Recognized Beer Judge
"Every beer has a story, Every story should have a beer"
{Feel free to leave comments on questions}